Originally published in our Laudable Life advice column in the Lakelands Leader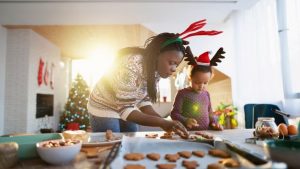 Question: I'm having a hard time getting into the holiday spirit. Every year I'm so stressed. I seem to do all the shopping for my own family, and my husband's family; as well as most of our kids gifts as well. Then there's all the teachers gifts, the white elephant event at work. The cookie exchanges. The holiday parties. Do I need to get something for the mailman, the cleaning ladies, and the newspaper guy? Then there are the Christmas cards and I haven't done for the last four years. It's all just too much! I feel like I'm constantly racing and not remotely "in the spirit."  I'm short tempered, I'm grumpy, I'm annoyed by my kids and husband. I feel so stretched for time. I even get stressed out thinking about decorating. It just feels like an additional burden. What can I do to try to recapture my holiday spirit?
Answer: Unfortunately what you're describing is all too common these days. People feel like they're pulled in a million directions at this time. Our founder, Dr. Elizabeth Carr, recommends you take some time to reflect on your core values and what you want this holiday season to be about for you and your family. Give yourself permission to cut back on all the obligations. Consider mindfully choosing which holiday traditions you want to invest in and which you can decline, and then try to let go of your guilt about pairing down your holiday obligations.  Remember what your family wants from you is most likely the same thing you want for yourself, to feel relaxed, joyful, and connected to others.
This article was originally published as a Laudable Life advice column in the Lakelands Leader December 2019 addition.