Interns Hall of Fame
Kentlands Psychotherapy is committed to helping to increase the gender, racial, cultural, religious, sexual, ability/disability diversity within our profession. Representation matters and having clinicians in the field that clients can related to and feel understood by because of their shared experiences is extremely important in our field. Does this resonate with you? We would love to start a conversation with you about our training program.
If you would like to be one of the Rock Stars on our internship alumni Hall of Fame, please click here and go to the bottom of our Join Our Team page for more details! We offer internships for outstanding HS and college/university-level students, as well as recent college grads looking to beef up their CV for graduate school applications.
Mentorship from exceptional area clinicians makes this such an incredible opportunity. The variety of learning opportunities, the friendly and supportive staff, the presence of an in-house therapy dog, and the boutique setting makes us the top choice for ambitious applicants.
Apply Now
Internship Opportunities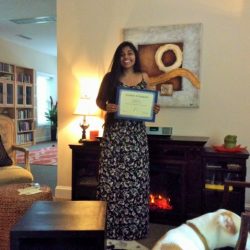 Our undergraduate psychology internships students and applied neuropsychology interns receive hands-on patient care opportunities in our MUSE EEG assisted mindfulness training and Alpha-Stim programs, as well as training in clinical, client-centered psychotherapy skills (counseling training) with their peers under the active supervision of licensed staff member clinicians. Hours are flexible and can usually work around and interns job and class schedules limitations.
From NPR, some ideas for internship applicants on writing a winning cover letter. Hint: we
School-year and summer placements are available. Please follow the instructions at this link to apply to our Director of Administrative Hospitality, Petra Desmond.
We are located in the new urbanist community of the Kentlands in Gaithersburg MD. Our facility is accessible by public transportation via the 76 bus (at the Kentlands Blvd & Market Street stop) from the Shady Grove Red Line metro station.
We are located on the second floor at 301 Inspiration Lane, Gaithersburg, MD 20878
Alumni Inspiration
"I just wanted to reach out and thank you one last time for your encouraging words and help with my recommendation letter during my application season this past year. I was fortunate enough to get into several top programs, but ultimately decided that William and Mary best suits my future goals. Starting this August, I'll be in Williamsburg studying Clinical Mental Health and Addictions Counseling! I'm incredibly excited to see where this takes me. Even more, thank you so much for taking a chance on me during an incredibly crazy COVID summer, as well as for teaching me so much. My time at KP really reminded me why I look forward to waking up every day to study psychology." – AB

"I just wanted to let you know that I have decided on a graduate school for the fall.  I'll be going to the University of Maryland!  Thank you so much for all your help throughout this process.  I truly appreciate it."  – ES
"Thanks for this opportunity! I am so, so grateful to have spent the summer with such wonderful and intelligent people! I just wanted to let you know that I have officially enrolled at Xavier (APA-Approved Clinical Psychology Psy.D. program)!" – JW
Next
Internship Reviews
"As I close out my time of internship at Kentlands Psychotherapy, I wanted to thank you all for providing the valued experience I have gained in the past year. Your teachings, direction, communication and feedback have helped me grow exponentially in knowledge of the subjects of psychotherapy and business, and it will forever be appreciated. I have had an amazing time working here, and I would do it all over again in a heartbeat. This is a field I hold near and dear to my heart, and I am very excited at what lies ahead. You have given me an amazing foundation. Thank you for your guidance, patience, and time." – FP