Friending Camps & Therapeutic Tabletop Role-Playing Groups for Tweens, Teens, and Young Adults


---
Role-Playing Games Helps Kids "Level Up" by Providing Fun Social Activities to Build Confidence, Develop Resiliency, and Learn More About Themselves!
X
Now

taking registrations for our next Online Roleplaying Summer

Camps starting August 10th

! Space is limited! Sign up now to reserve your teen or tween's new adventure!
---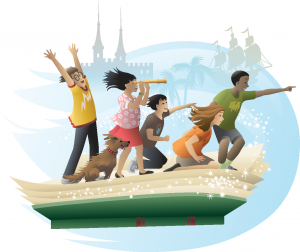 Are you struggling to find online social activities for your teen or tween to help them build relationships and develop more social or conflict-resolution skills? Kentlands Psychotherapy's online roleplaying games (RPG) will help!
 Our virtual RPG tabletop games are specifically designed by mental health and game-making experts to help your youth improve social skills, nurture self-confidence, and expand their problem-solving abilities. And, we're online and accepting participants locally, nationally, and worldwide!
 Tabletop and roleplaying games, such as the well-known Dungeons and Dragons (D&D), have a decades-long history of being used to harness creativity and imagination. Our RPG games take these benefits to a whole new level. 
With built-in opportunities for skill-building and guidance from our professionals, your kid will learn empathy, build relationships, and practice communication skills in a supportive, playful environment. Small groups ensure they won't be lost in the crowd!
---
Tabletop Roleplaying Groups (RPG)

Online Roleplaying Makes Critical Impacts By
Combating loneliness with regular social interaction

Developing social confidence through teamwork while completing in-game goals

Building relationships with others in their team

Growing confidence through the practice of problem-solving and communication skills

Harnessing creativity and imagination with storytelling and character development

Learning conflict resolution and problem-solving skills by working with other participants to navigate and resolve the story
Through character development, group storytelling, and working with others in an active and changing imaginary world, your teen or tween will be the main character in their own story. They can try new ways of solving problems and interacting with problems or circumstances without real-world social risk. 
Check out our blog or these articles from Forbes and the BBC to learn more about the benefits of tabletop roleplaying games! 
---
Testimonials
"I have to tell you Mikey is always excited to join group each week. He often is all set to go and join early, as you and Max see. Mikey loves hanging out with everyone in the group. He hopes you offer it again!!! Thank you so much!!!"
"Thomas is excited each week to play/chat. I can hear him talking up a storm which is great for a kid that has some social anxiety!"
"Max is an absolute treasure! You clearly have a fantastic staff. 🙂 he's checking with my daughter made her feel like 1 million bucks! 🙂 She was so excited to start camp. Max drew her out, got her thinking, made her feel safe and really gave her permission to get excited about connecting with others imaginatively… I can't wait to see how she tries out the new rules new social skills in the setting… I'm so excited for this opportunity for her!"
Update: "My daughter is BEAMING as she comes off day one of camp…. Find Max and give him a hug!!!"
X
Fun at Any Age
Roleplaying Games Aren't Just Child's Play Anymore! The benefits of roleplaying games aren't only reserved for children and youth! We have special groups open to adults as well! You, too, can join one of our virtual campaigns to increase your social interaction, make friends, and learn more about yourself through play and performance.
X
Getting Started!
Are You Ready to Begin Your Journey to a Happier, Healthier Family? Choose Your Adventure! Our sessions are open to players of all experience levels (including no experience with RPG or D&D)! And, we accept players from all over the globe! 
To participate, you will need reliable Wi-Fi and a computer (preferred) or tablet with video and microphone. Headphones are recommended.
Groups are limited to just 3-6 players so act quickly to reserve your spot in a campaign. 
We offer two exciting tracks for our would-be adventurers: Social RPG and Therapeutic RPG!
---
Social Campaign Camps & Groups
Tween or Teen Social Connections Online Roleplaying Summer Camps
This Weeklong Adventure Camp Meets Daily: 
Accepting Registrations for the Week of Aug. 10, 2020
Teen or Adult 8-Week Social Connections Online Role-Playing Campaigns
8-Week Campaigns of Adventure Meet Once a Week: 
Accepting Registrations for Groups Starting on Aug. 13, 2020
---
Therapeutic Campaign Groups
For individuals that need a bit more help, we are excited to offer a unique therapeutic group that uses role-playing games as a tool for developing social skills and fostering interpersonal well-being. This group features two facilitators to provide unparalleled support. The Game Master is Max Raabe, MA who has a masters in game design and has been Game Mastering (aka facilitating) group tabletop games for over a decade. Driving the therapeutic side of the equation is Dr. Kelli Dunlap, PsyD, a licensed clinical psychologist specializing in games and mental health.
The benefits of roleplaying games are clear, but we have "leveled up" our Therapeutic RPG Groups to provide even more support! 
Our Therapeutic RPG Groups feature two Guides (facilitators) for your teen or tween's next adventure: 
Game Master Max Raabe, MA (a trained game designer with over 10 years of experience in leading group tabletop games)

Dr. Kelli Dunlap, PsyD (a licensed clinical psychologist specializing in games & mental health)
Goals of the Therapeutic Tabletop Roleplaying Groups include the development and improvement of:
Effective interpersonal communication

Self-worth

Problem-solving & executive functioning

Social skills training such as setting, maintaining, and respecting boundaries for oneself and other team members

Conflict resolution and empathy for other

Identifying and managing emotions

Increase positive peer interaction experiences
---
Tween 8 Week Online Therapeutic Social Skills Role-Playing Game Group
8 Week Journey of Discovery & Adventure: 
Accepting Registrations for Groups Starting on August 11th, 2020
---
About the Facilitators
Dr. Kelli Dunlap, PsyD is a licensed psychologist specializing in games and mental health. With a masters in game design as well as her doctorate in clinical psychology, she's our resident Geek and GamerTherapist. Dr. Dunlap has been researching games and mental health for over a decade and is internationally known as an expert in the field. Her clinical expertise is grounded in cognitive behavioral therapy and she integrates her experience in gameplay and game design to foster personal development and psychological growth in both individual and group settings.
Call Dr. Kelli Dunlap at (240) 252-3349 Ext. 805 for questions on the THERAPEUTIC groups. Or email her at KDunlap@KentlandsPsychotherapy.com
---
Max Raabe, MA
is a mental health paraprofessional, award-winning game designer, and expert tabletop facilitator. Max has been running and designing tabletop roleplaying games for over two decades. His recent work includes designing an award-winning roleplaying system specifically designed to encourage prosocial play experiences and develop social-emotional learning. With a masters in game design Max focuses on building experiences that allow players to advance their personal growth while exploring personally resonant narratives.
Call Max Raabe at (240) 252-3349 Ext. 814 for questions on the SOCIAL camps and groups campaigns or email at MRaabe@KentlandsPsychotherapy.com